Make holes in finished products in any field.

It can also be used for deep hole machining of workpieces that have undergone outer diameter machining.
When performing deep hole drilling on a workpiece that has undergone outer diameter machining, chucking technology is extremely important.
Our company has abundant know-how about chucking based on more than 20 years of contracted deep hole processing, so we can meet the customer's required accuracy without damaging the outer diameter.
Advantages of deep hole drilling for workpieces with the outer diameter
For customers, deep hole drilling for workpieces with an outer diameter has the following advantages.
Greater freedom of design.

There is no need to make process changes or design changes due to deep hole processing.
Outer diameter machining is easier than when performing outer diameter machining on a workpiece that has already been deep hole machined.
It is easy to chuck, etc., and it is easy to meet the processing accuracy.
It can be used to reduce the weight of products (automobile parts, medical tools, etc.) such as making hollow parts.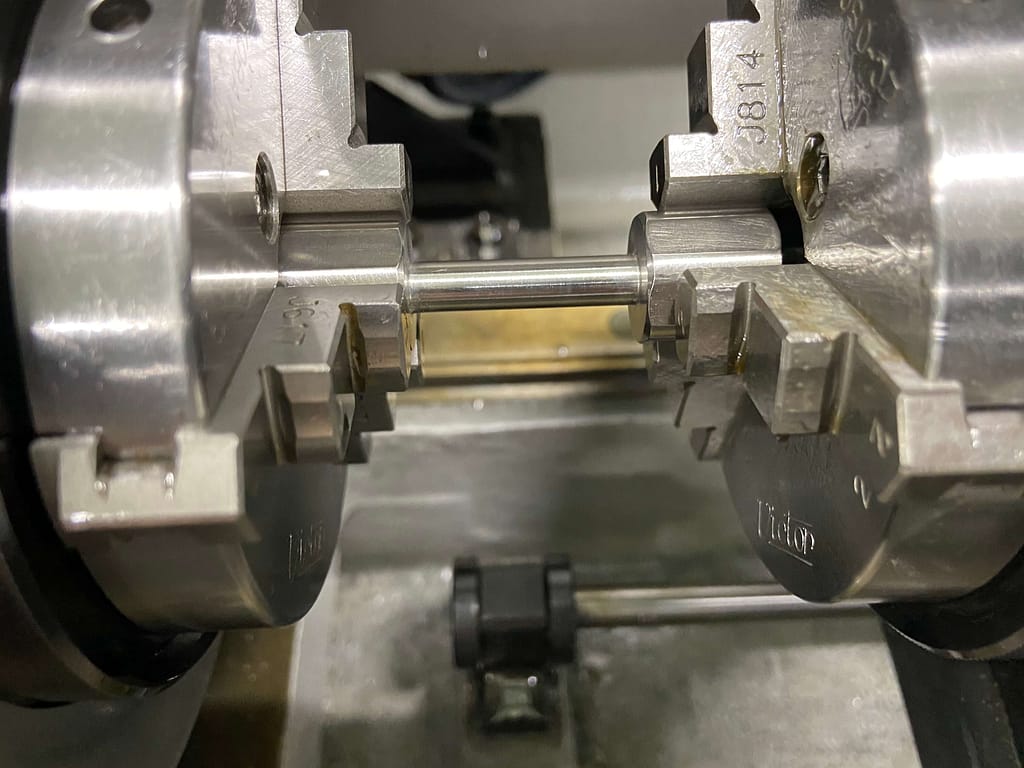 Applications of thin wall deep hole drilling.

Typically, the processing of thin-walled pipes is generated by an electrically resistant welded pipe made by rolling a thin plate or a processing method of heating and cooling and rolling, and not by cutting.
In the following cases this thin processing can be used: When a thin deep hole is required for a workpiece with an external shape.
When eccentric holes or thin deep holes for square pieces are required.
When the seams such as electrically resistant welded pipes are not suitable, and when processing methods such as rolling are difficult due to the material.
Ultra-thin deep hole drilling that goes against conventional drilling.
When exhibiting a sample like the one in the photo above at exhibitions and other places, it is mistaken for a pipe by visitors, but it is a solid material that has been deep-drilled with a gun drill.

Enables to machine walls as thin as 0.5mm and 0.25mm
Minimum thickness of wall : 0.15mm
Comparison with other cutting technology

Small-diameter deep hole machining is not impossible even with machining centers. Still, L/D (machining hole depth/machining diameter) and machining accuracy are far behind gun drill machines.
Furthermore, small-diameter electrical discharge machining has problems such as long machining time and lack of inner surface roughness. Furthermore, few manufacturers produce gun drill machines specialized for small diameters (3mm or less), and we have the best technology in this field.
HI-TAK gun drill machine:
more L/D
more accurate processing
shorter machining time
| | | | |
| --- | --- | --- | --- |
|   | CNC Machining | Electrical discharge machining | HI-TAK gun drill machine |
| Hole Diameter(mm) | △ | ◎ | 〇 |
| Part length(L/D) | × (50) | 〇(100) | ◎(200 max.400) |
| Processing time | 〇 | × | ◎ |
| Hole diameter accuracy | △ | △ | ◎ |
| Surface finish | 〇 | × | ◎ |